The Duck Shepherd's Pie "refill" by Recettes Ferme des Loges won the Special Jury Award at Sirha.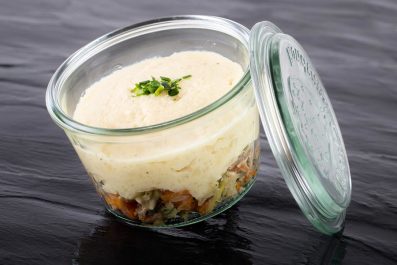 La Cartouche de Parmentier de Canard de Recettes Ferme des Loges a été récompensée au Sirha 2015 par le prix spécial Jury.
The Duck Shepherd's Pie "refill" is a top-quality product that can be readily served to customers by any staff member. This frozen wonder has been designed for ease of use, and can be placed and served in the container of your choice: a glass jar, a ceramic dish, or even a pretty cardboard bowl for takeaway.
The product does not need to be defrosted and can be reheated frozen in a few minutes in the microwave. Some of the economic advantages of this product are: reuse of containers on site, zero loss for a frozen product that is ready to use without defrosting first, and optimisation of personnel costs.
Shelf life: 12 months in the freezer
Recettes Ferme des Loges provides premium ready-to-eat solutions ideal for a high-quality menu for room service, high-end snack bar, or elegant takeaway options for a quick meal on the go.
Other options available in the refill format: Salmon, vegetable and lemon crumble; Shepherd's pie; Lamb curry; Penne with summer vegetables and more.