Tasty and comforting recipes based on cooked potatoes and vegetables, designed to make the meal a simple healthy moment of pleasure.
Key figures
8 000 m²

for our unique workshop in Agen

65

millions euros in sales in 2023
Cité Gourmande has a single production site: Cité Gourmande. For over 20 years, Cité Gourmande, an SME rooted in the heart of the south-west, has been creating and reinventing potato- or vegetable-based frozen ready meals. Responsive and flexible, Cité Gourmande takes its inspiration from the local area and French culinary tradition to develop delicious and innovative products.
It has two booming retail brands: Pom Bistro, launched in 2014, is based on French culinary tradition and authentic recipes, as found in several cafés. Pom Bistro products, based on carefully selected potatoes, showcase local cuisine and keep their promise of gourmet pleasures and plenty of flavour.
Pom Bistro is an original range that aims to give a boost to our distributors.
Yummy, the new organic frozen brand, was launched in September 2017, specialising in frozen ready meals to meet new demand for organic frozen products. Yummy's priority is providing delectable organic recipes cooked in France with high-quality ingredients, for naturally delicious flavours. The brand aims to maintain the benefits of frozen food such as saving time, practicality and storage, while compensating for the disadvantages and committing to:
Incomparable flavours and textures
100% clean label
100% organic recipes
The brand in pictures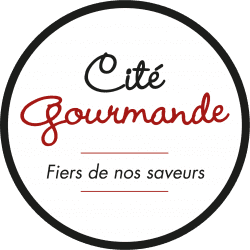 LOCAL, NATURAL AND INNOVATIVE
With ranges for all channels and its own growing brand, Cité Gourmande revisits traditional recipes but is also committed to innovation, playing with textures, shapes and colours to create a feast for both the eyes and the palate. 100% clean label products with high-quality ingredients just like at home (no colourings, preservatives, added flavourings or additives).
Our team of trained chefs are experts in developing innovative and delicious recipes:
In response to specific customer requests
To diversify our range with increasingly novel and distinctive recipes.
We also inspect raw materials, carry out full process and quality control and verify the reliability of ingredients.
Thanks to control of our main raw material, potatoes, and research into innovative industrial technologies, Cité Gourmande has developed a wide range of original and flavoursome savoury products.