The most popular 'casual French' restaurant in the United States, La Madeleine has over 85 café-restaurants in the south and east of the country.
Our history
Founded in 1983 in Texas, La Madeleine joined the LE DUFF Group and its international network of brands in 2002.
Present in North America for over 40 years, La Madeleine café-restaurants have established themselves by offering local, warm and typically French dining.
The brand in pictures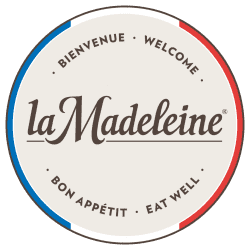 La Madeleine reflects all the charm of French cuisine that more and more Americans recognise and appreciate.
Ideally located in town centres and shopping centres, La Madeleine offers hot meals, sandwiches and traditional French dishes in a friendly setting with a 'French touch'.