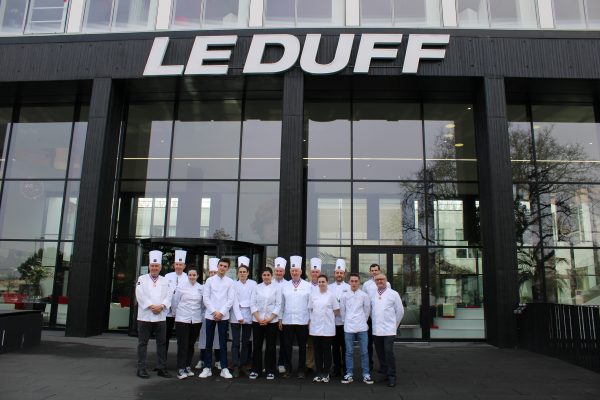 Le Duff Group and Bridor received on Wednesday, the 2nd of March a delegation of  the Most Talented Apprentices of France (MTAF/MAF).
Accompanied by the National Society of the Best Craftsmen of France's President, Jean-François Girardin, along with a few of the Best Craftsmen of France (BCF/MOF), Frédéric Lalos, Jean-Jacques Massé, and Marc Foucher; and Bridor's Chief Executives, Fabrice Guinchard and Pierre Koch, these apprentices were welcomed for a day to discover the industrial heart of Bridor.
On the agenda: a visit of Bridor's manufacturing site, discussions on different crafts, and hand-on workshops with craftsman Frédéric Lalos and the R&D teams of Bridor.
This day was dedicated to training these young apprentices, which shows Le Duff Group and Bridor's devotion to the passing on of culinary expertise.
An exceptional partnership and a passion for passing on the culinary arts
Since 2006, the National Society of the Best Craftsmen of France and the Le Duff Group have engaged in a partnership to promote the earnest work of the BCF/MOF and the MTAF/MAF, as well the expertise of Le Duff Group, global leader in the bakery-pastry, café-bakery, and pizza-pasta food services.
Built upon shared values, this exceptional partnership has notably allowed for both players to develop strong bonds to unite their efforts to encourage the cultivation of young talents.
Over 2,500 apprentices trained since the creation of the Group
Ever since its creation in 1976, Le Duff Group has trained over 2,500 apprentices: a number that shows its long-standing attachement to the transmission of French culinary tradition to its younger generations.
Le Duff Group created a Culinary Academy within its headquarters in Rennes, international center of R&D to test brand new concepts, products, and recipes. This Academy is also a training facility for our co-workers, clients, and franchisees, and where Chefs desiring to teach young talents to the culinary arts take action.