The bread uses premium quality flour made from environmentally friendly wheat.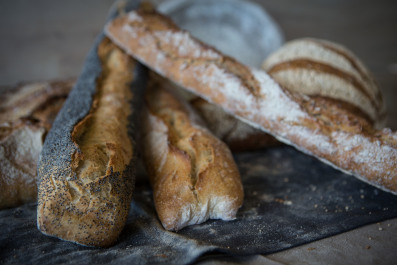 Une nouvelle farine de qualité, issue de blés cultivés dans le respect de l'environnement. Le plus grand souhait du
Fournil de Pierre
est de participer au développement d'une agriculture locale en valorisant et en respectant le travail des agriculteurs de nos régions.
Le Fournil de Pierre's biggest desire is to help develop local agriculture by respecting local farmers and locally grown produce.
Le Fournil de Pierre is committed to reducing biological and chemical residues in its flour to a minimum. To do this, the flour is prepared using strictly controlled wheat grown using environment-friendly farming. Our bakers are extremely proud to be able to unravel all the flavours and richness of this simple yet generous flour in the form of tasty gourmet breads.
Its advantages
The country-grown wheat (Blé de nos campagnes®) used to make the flour is a healthy, high-quality wheat grown using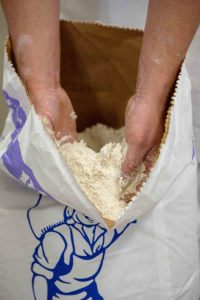 eco-friendly controlled farming practices (CRC® = Culture Raisonnée Contrôlée):
100% French wheat grown in France
Grains cultivated in accordance with good agricultural practices that respect nature
No insecticides used for storage after harvest
New products! 
Pierrette breads: the famous Pierrette baguette and the launch of Rustic Pierrette
Millstone breads (Meule de Pierre): The Millstone round loaf and the Convives bread (2.5kg) for large groups
Special breads: wholewheat bread, rye bread, white bread, etc.
Flavoured bread: different types of bread in different flavours – bacon, black olives, apricot, dark chocolate and many more!