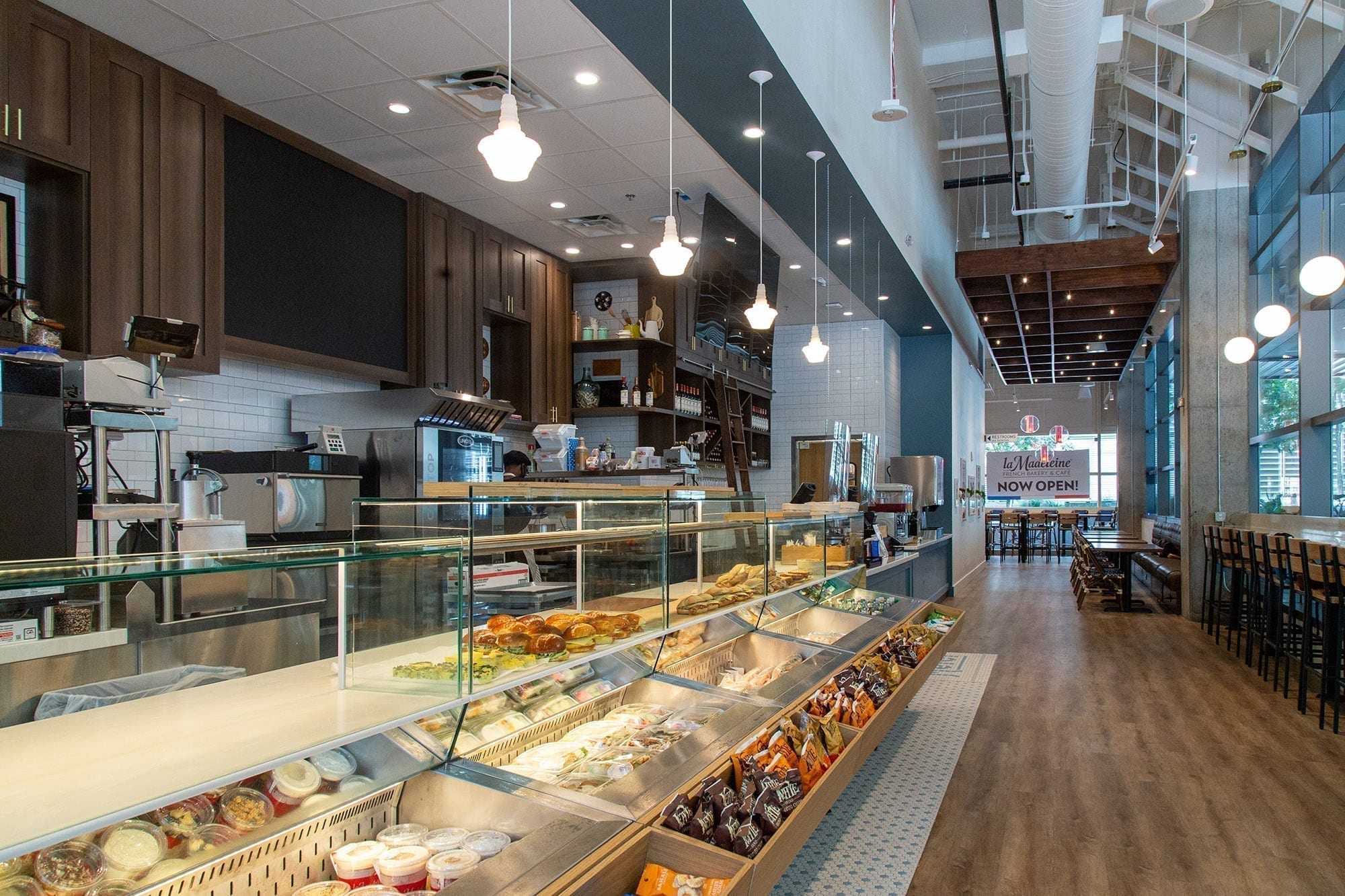 La Madeleine has opened its first petite market and bakery at Park District in the heart of Dallas' Uptown.
This new la Madeleine is a charming, modern extension of the beloved Dallas-based brand. The smaller format experience is readily designed to serve the Park District and Uptown communities seeking high-quality, unique, fresh food for their on the go lifestyle.
This concept embodies a new generation of modern and warm restaurants.
Situated within the Park District complex, la Madeleine has pedestrian access via Olive Street and the Park District Plaza. The bakery welcomes guests with a typical French blue façade and two relaxing shaded patio spaces. The interior transports guests to their daily French escape with charming Madeleine accents, art and French lesson details. Coffee and bakery service is conveniently situated near the entrance alongside the order ahead pick-up bookshelf. Guests can continue down the line for hot sandwiches, soup, salads and grab and go selections. A variety of interior seating caters to every occasion with single bar-height seats, banquettes and a large community table.
The menu features an expanded coffee program, fresh-baked viennoiserie, brioche breakfast sandwiches, quiche bites, premium salads, sandwiches, charcuterie boards, wine and new agua fresca mimosas. And of course, Guests can enjoy la Madeleine classics such as, croque monsieur, chicken salade croissant, Caesar salad, tomato basil soup, strawberries romanoff and fresh-baked viennoiserie. Appropriately, being in the heart of Dallas' Park District, Guests are invited to fill their own picnic basket for an escape to nearby Klyde-Warren park.
"This concept embodies a new generation of modern and warm restaurants. It is part of the Group's global strategy to have synergies and common fundamentals between our restaurants worldwide: a self-service restaurant service (grab & go), a focus on digitalization, product work in front of customers… while retaining the local DNA of our brands," explains Lionel Ladouceur, Le Duff Group's Managing Director, Global Food Service.
The brand is continuing to develop and confirms its good ranking among the most popular brands in the USA (according to the "Nation's Restaurant News 2019" consumer survey; Source & methodology: https://bit.ly/2LnUSo4).