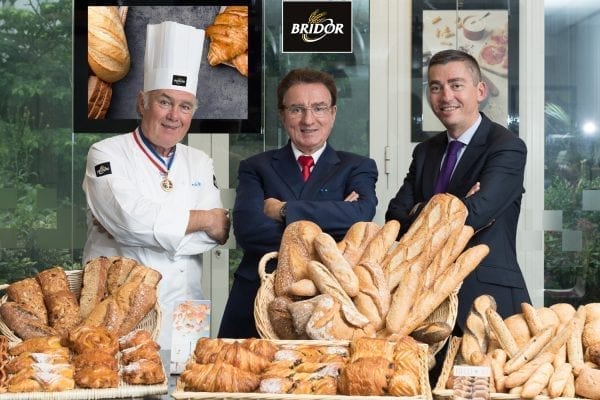 Reflecting LE DUFF Group's big ambitions for its BRIDOR subsidiary, Liffré in Ille-et-Vilaine is where the Group will build this new production unit. This investment plan of 250 million euros will start in 2020, span the next 5 years and be accompanied by the creation of 500 jobs.
Bridor: partner of top professionals in the hospitality and restaurant business
Bridor has grown alongside the top businesses in catering and gastronomy, such as Maison Lenôtre, with which the Group has been in partnership for almost 30 years. Based in Brittany since 1988, Bridor has become a supplier of premium quality products and a partner of the most prestigious restaurant and hospitality brands (4 and 5 stars worldwide). Louis LE DUFF, Chairman and founder of Le Duff Group and Bridor: "This success is due to the quality of our employees, our state-of-the-art industrial technology and a constant quest for excellence in producing high-quality, healthy dishes".
Bridor expertise: enjoyable, high-quality, healthy dishes
Present in more than 100 countries, achieving a turnover of 800 million euros in 2019, Bridor carries the values ​​of French baking know-how all around the world: respect for the rules of  artisanal baking (slow kneading, respect for the dough, gentle rolling, slow fermentation); highly qualified teams; rigorous selection of raw materials (French flour, Charente AOP butter, etc.).
Bridor targets professionals who care about uncompromising quality,
By collaborating daily with France's best craftspeople, certified MOF (Meilleurs Ouvriers de France), to develop new traditional, artisanal recipes and ensure that they follow the necessary processes for high-quality production.
Also by collaborating with health professionals, such as Dr Loïc Roger, a doctor of nutrition, and Dr Joël Doré, Director of Research at INRA and Scientific Director of the MetaGénoPolis unit.
Bridor has won many awards for the quality of its innovations, including a "Sirha Innovation Award 2019" for L'Amibiote, a baguette made of plant fibres specifically chosen for their beneficial effects on the gut microbiota. The recipe took three years of research and development, conducted alongside Doctors Loïc Roger and Joël Doré, INRA and the Rhône-Alpes Research Centre for Human Nutrition. Bridor also works on developing organic, high-fibre and gluten-free ranges.
A new production site to support Bridor's global growth
This new investment plan by LE DUFF Group – the world leader in French pastry, bakery and catering – is designed to support the strong growth of Bridor, which already achieves 70% of its sales on the export market and abroad.
North America is one of Bridor's major growth drivers. Le Duff Group announced an investment plan of 200 million euros on 30 September (sites in Vineland/Philadelphia and Boucherville/Montreal) that will allow Bridor's worldwide turnover to exceed one billion euros by 2021.
Europe, Asia and the Middle East are also high-demand markets.
"This new investment comes on top of the 200 million euros invested in North America in 2019. We are accelerating our development in keep on doubling our turnover every 5 years," adds Mr Philippe Morin, CEO of Bridor. "This future industrial facility in Brittany is a major new step in consolidating our leadership and achieving  a turnover of 1.5 billion in 2025".
A dedicated site for manufacturing premium quality traditional bakery and pastry products
This new factory in Liffré, scheduled to begin operations in 2022, will add to the current production capacities of the sites in Servon-sur-Vilaine (Ille-et-Vilaine) and Louverné/Laval (Mayenne). Located on a 21-hectare site, this new Breton industrial facility will create 500 non-relocatable jobs, including nearly 150 from 2022 onwards, adding to Bridor's current workforce of 2,500. In 2018, Le Duff Group also opened a production plant specialising in bread. It is located near Düsseldorf, in the heart of Europe with a pool of 250 million potential customers.
"People are our greatest asset"
For Louis LE DUFF, "Liffré is a strategic and economic choice, but also a choice of the heart. We chose Brittany for its people's great expertise and its proximity with our existing sites.
A choice of the heart because I am very attached to Brittany, where I chose to locate our world headquarters and our global R&D and training centre (Académie Culinaire), in Rennes."
We will use our historic sites in Servon-sur-Vilaine and Louverné/Laval as a training resource, and we will have dedicated pilot teams to train our new recruits and transfer skills," says Philippe Morin.
"At our company, the corporate ladder, internal promotion and skills transfer are the keys to success. People are our greatest asset!" emphasises Louis LE DUFF.
By continuing to use this website, you agree to the use of cookies to make your browsing experience easier and more personalised, and for the purpose of compiling visitor statistics. For more information, and to configure cookies or object to their use : please refer to the cookie management policy
Les paramètres des cookies sur ce site sont définis sur « accepter les cookies » pour vous offrir la meilleure expérience de navigation possible. Si vous continuez à utiliser ce site sans changer vos paramètres de cookies ou si vous cliquez sur "Accepter" ci-dessous, vous consentez à cela.