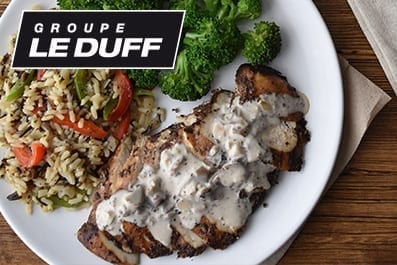 U.S. parent of la Madeleine French Bakery & Cafe, Mimi's and Brioche Doree to enact changes by 2024
DALLAS (Dec. 15, 2017) – Le Duff America has joined a growing number of progressive companies in the campaign to improve the welfare of broiler chickens by adopting new standards set by the Global Animal Partnership.
The company, whose brands include la Madeleine French Bakery & Cafe, Mimi's and Brioche Doree, has committed to sourcing chicken only from suppliers that adhere the following GAP standards by 2024:
Use chicken breeds demonstrated to have better welfare outcomes
Reduce density and prohibit broiler cages
Provide enriched environments
Utilize a multi-step controlled atmosphere processing
Demonstrate compliance via third party audits
"At Le Duff, we believe that people care not only about great food from a culinary standpoint, but also where it comes from and how it is processed," said Le Duff America CEO Olivier Poirot. "Our commitment to improving broiler chicken welfare speaks to our changing sensibilities, and we believe it is a positive step for our company, our guests and the industry as a whole."
The standards set by Global Animal Partnership, an international farmed animal welfare certification program, have been endorsed by leading animal welfare organizations and have been adopted by more than 60 restaurant, foodservice, grocery and hospitality brands across the U.S.
About Le Duff America Inc.
Le Duff America Inc. operates multiple restaurant concepts in the U.S., including Brioche Doree, la Madeleine French Bakery & Cafe and Mimi's, which focus on fresh ingredients, hand reparation and authentic flavors.
MEDIA CONTACT
Mary Kate Jeffries
   817-329-3257
     marykate@spmcommunications.com
By continuing to use this website, you agree to the use of cookies to make your browsing experience easier and more personalised, and for the purpose of compiling visitor statistics. For more information, and to configure cookies or object to their use : please refer to the cookie management policy
Les paramètres des cookies sur ce site sont définis sur « accepter les cookies » pour vous offrir la meilleure expérience de navigation possible. Si vous continuez à utiliser ce site sans changer vos paramètres de cookies ou si vous cliquez sur "Accepter" ci-dessous, vous consentez à cela.