Del Arte inaugurated its 150th restaurant on 18 February 2015 in Rouen.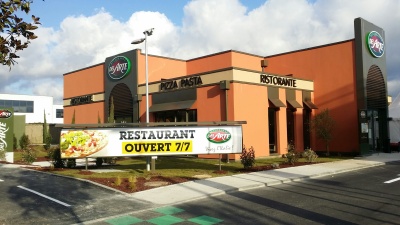 This new restaurant, located at Rouen Grand Quevilly is the second Del Arte for franchisees Patricia and Pascal Vincent; the first opened at Caen Mondeville in April 2013. It is also the 6th Del Arte restaurant in the Normandy region of France.
For this restaurant opening, 23 associates were given permanent employment contracts, mostly for full-time work and for various positions (management, waiting staff, kitchen staff).
The restaurant is located near the Bois Cany mall, the Gaumont theatres, and the bowling centre. It can accommodate 165 customers indoors and 40 on the terrace. Our team is delighted to welcome you!