Del Arte saw 13 new opening in 2013, including its first "Express" concept, aimed at motorway rest areas.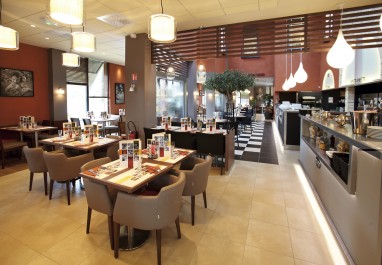 The brand sustained growth saw 13 new restaurants in 2013, in Dijon Marsannay, Bordeaux Sainte-Eulalie, Clermont-Ferrand Aubière, Avignon Sud, Mont-de-Marsan, Montévrain among others. The first motorway "Express" Del Arte restaurant also opened its doors on the Metz Saint-Privat rest area.
Del Arte is also investing in its previousy opened restaurants. 6 of them have been redesigned accordingly to the brand's new concept : C Parly 2, Paris Boulevard Saint-Michel, CC Val d'Europe, CC O'Parinor, Boulogne Billancourt and Orléans Olivet.
By continuing to use this website, you agree to the use of cookies to make your browsing experience easier and more personalised, and for the purpose of compiling visitor statistics. For more information, and to configure cookies or object to their use : please refer to the cookie management policy
Les paramètres des cookies sur ce site sont définis sur « accepter les cookies » pour vous offrir la meilleure expérience de navigation possible. Si vous continuez à utiliser ce site sans changer vos paramètres de cookies ou si vous cliquez sur "Accepter" ci-dessous, vous consentez à cela.