Del Arte saw 13 new opening in 2013, including its first "Express" concept, aimed at motorway rest areas.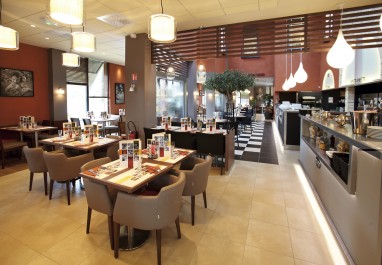 L'enseigne
poursuit son développement avec 13 ouvertures en 2013 et, pour la première fois, sur autoroute, en version express, sur l'aire de Metz Saint-Privat.
The brand sustained growth saw 13 new restaurants in 2013, in Dijon Marsannay, Bordeaux Sainte-Eulalie, Clermont-Ferrand Aubière, Avignon Sud, Mont-de-Marsan, Montévrain among others. The first motorway "Express" Del Arte restaurant also opened its doors on the Metz Saint-Privat rest area.
Del Arte is also investing in its previousy opened restaurants. 6 of them have been redesigned accordingly to the brand's new concept : C Parly 2, Paris Boulevard Saint-Michel, CC Val d'Europe, CC O'Parinor, Boulogne Billancourt and Orléans Olivet.