Cité Gourmande won the Best Dish and Soup award for its rotisserie-style Grenaille potato halves with unpeeled garlic.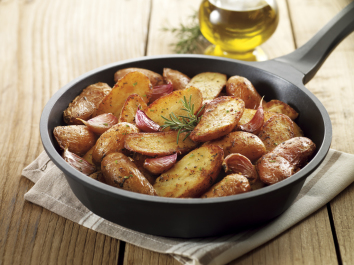 Imagine Grenaille potatoes cut in two, fried in sunflower oil, and then cooked in chicken gravy and thyme, served with unpeeled garlic cloves.
That's the winning recipe in the 2015 Snacking d'Or Best Dish and Soup category.
By continuing to use this website, you agree to the use of cookies to make your browsing experience easier and more personalised, and for the purpose of compiling visitor statistics. For more information, and to configure cookies or object to their use : please refer to the cookie management policy
Les paramètres des cookies sur ce site sont définis sur « accepter les cookies » pour vous offrir la meilleure expérience de navigation possible. Si vous continuez à utiliser ce site sans changer vos paramètres de cookies ou si vous cliquez sur "Accepter" ci-dessous, vous consentez à cela.