LE DUFF Group first Brioche Dorée restaurant in Japan had a crowded opening.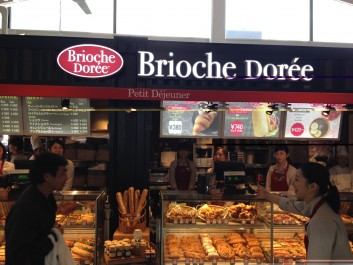 Le Groupe LE DUFF débarque en fanfare sur le marché nippon en ouvrant un premier établissement Brioche Dorée à l'entrée ouest de la gare de Yokohama, dans les environs de Tokyo. Succès immédiat pour ce restaurant, pris d'assaut par les consommateurs nippons, mercredi 2 avril, jour de son inauguration.
LE DUFF Group makes a noticed entrance on the japanese market by opening their first Brioche Dorée restaurant. Located at the Yokohama train station, near Tokyo, the restaurant was an instant hit. On its opening day, April 2, numerous customers queued to discover the traditional french pastries.
By continuing to use this website, you agree to the use of cookies to make your browsing experience easier and more personalised, and for the purpose of compiling visitor statistics. For more information, and to configure cookies or object to their use : please refer to the cookie management policy
Les paramètres des cookies sur ce site sont définis sur « accepter les cookies » pour vous offrir la meilleure expérience de navigation possible. Si vous continuez à utiliser ce site sans changer vos paramètres de cookies ou si vous cliquez sur "Accepter" ci-dessous, vous consentez à cela.