To meet the demands of its hotel and restaurant clients looking for high-quality baked goods, Bridor has opened its second factory at Louverné (53) in the Mayenne region of France.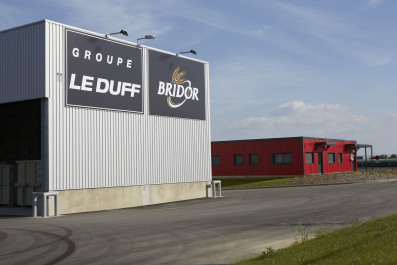 Pour répondre aux attentes de ses clients hôteliers et restaurateurs en quête de solutions boulangères de qualité,
Bridor
a ouvert son 2ème site de fabrication à Louverné (53) en Mayenne.
Inaugurated by Louis Le Duff (Chairman of Groupe Le Duff) and Bruno Rousseau (Managing director of Bridor) on 27 June 2014, this new ultramodern site spanning 17 hectares is home to the new manufacturing line of bread pre-cooked in a stone-bottom oven.
Everything was done at Louverné to bring together the two qualities that characterise Bridor – performance and respect for baking. In fact, this new manufacturing line sets itself apart with its slow dough-mixing, high water content in the dough, and long resting time – the same thing artisan bakers have been doing since the origin of bread. And as always, all the ingredients have perfect traceability.
Bridor has also built a partnership with Frédéric Lalos, Meilleur Ouvrier de France, to offer high-quality French bread, and has collaborated with chefs from Lenôtre-Paris to offer exceptional bread, pastries, and cakes.