On 23 November, Louis Le Duff received the Legion of Honour from Jean-Yves Le Drian, the French Minister of Defence.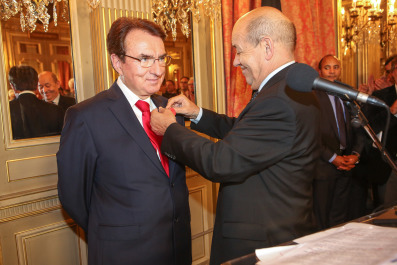 "It is your brilliant career, your talent, and your courage that make you worthy of this Chevalier de la Légion d'honneur", said Jean-Yves Le Drian to Louis Le Duff Friday evening at the ceremony held in Brittany's prefecture in front of hundreds of VIPs, including several heads of companies. The French Minister of Defence recounted Louis Le Duff's track record and how the son of a market gardener became the head of an industrial empire.
"Va mignoned, demat!" (My dear friends… Good evening!") An emotional Louis Le Duff began his speech in Breton, paying tribute to his parents and thanking all his employees as well as everyone who inspired and supported him throughout his career.
The Groupe Le Duff has 14,500 employees, 1,200 restaurants and boutiques that generated around 1.2 billion euros turnover in 2012. Present in 50 countries, the Group is now expanding in the United States where it just bought Timothy's Coffee. The company is also expanding in France where a new Bridor factory is in the making in Laval.
This is just the beginning for Groupe Le Duff, promised Louis Le Duff.