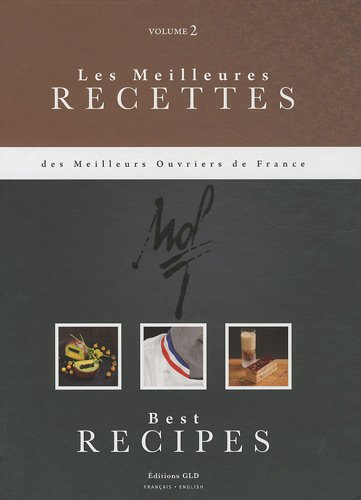 Best Recipes from the Meilleurs Ouvriers de France
Following the success of volume 1, here is volume 2 of 'Best Recipes from the MOF'. It includes even more talent and recipes presented by over 60 MOFs from the catering industry.
This book, with an introduction by the chef Michel Roth, also marks the 80th anniversary of the founding of the SnMOF. As with the first volume, it highlights extraordinary men and women who advance French know-how, products and regions through their exceptional work.
They are chefs, butchers, pork butchers, fishmongers, cheese makers, ice cream makers, pastry chefs, confectionery makers, chocolatiers, sommeliers and maîtres d'hôtel. They represent the best of French cuisine and way of life. Among the talented individuals included in Volume 2 are: Christophe Bacquié, Philippe Etchebest, Guillaume Gomez, Emmanuel Ryon, Nicolas Bernardé, etc.
In this book, liberally illustrated with lots of pictures, they share their best sweet and savoury recipes with readers, including the best wines to accompany them. The book is the perfect launchpad not only for cooking up dishes created by leading experts but also to explore the history of these exceptional men and women.
All the text and recipes in the book is written in French and English.
This is another opportunity for the LE DUFF Group and its founder and CEO, Louis LE DUFF, to express their unwavering support for the SnMOF and the values it represents: perseverance, excellence, tradition and know-how. Publishing this book demonstrates our commitment to the quality of the products and recipes of every LE DUFF Group brand and our desire to represent the best of French culinary tradition, both in France and worldwide.