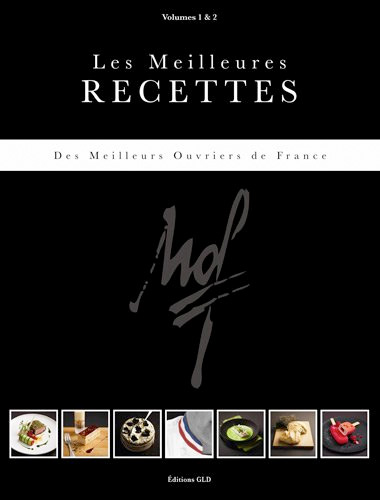 Best Recipes from the Meilleurs Ouvriers de France
This collection includes volumes 1 and 2 of the "Best Recipes from the MOF". Therefore, a total of over 120 MOFs are brought together to show off their recipes.
These acclaimed professionals are the elite of the French gastronomic scene. They have demonstrated not only talent, but also perseverance and exceptional work in order to win this prestigious title.
They are chefs, butchers, pork butchers, fishmongers, cheese makers, ice cream makers, pastry chefs, confectionery makers, chocolatiers, sommeliers and maîtres d'hôtel. They include: Eric Frechon, Olivier Nasti, Michel Roth, Jean-Paul Hevin, Patrick Roger, Philippe Etchebest, Guillaume Gomez, etc.
In these two books, illustrated with lots of pictures, they share their best sweet and savoury recipes with readers, including the best wines to accompany them. The two books are the perfect launchpad not only for cooking up dishes created by leading experts but also to explore the history of these exceptional men and women.
Volume 1, with an introduction by the great Joël Robuchon, was declared 'Best French Cookbook 2009' by the judging panel of the Gourmand World Cookbook Awards'.
The introduction to Volume 2 was written by Michel Roth.
All the text and recipes in the books are written in French and English.
The project initiator Louis LE DUFF, founder and CEO of the LE DUFF Group, is an ardent defender and promoter of the values of excellence and effort that allow MOFs to achieve such a prestigious award. Publishing this book in collaboration with the SnMOF demonstrates our commitment to the quality of the products and recipes of every LE DUFF Group brand and our desire to represent the best of French culinary tradition, both in France and worldwide.