Cyriaque Fournier, 41, has been appointed Real Estate Development Director in Charge of International Business at Groupe Le Duff.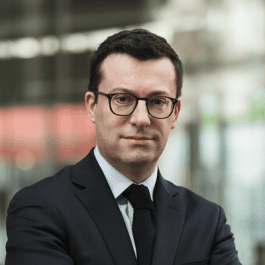 Cyriaque Fournier has a dual master's in Business law and Urban planning as well as a post-graduate degree in Franchise and business network law from the Robert Schuman University Institute of Technology at the University of Strasbourg. He got his start handling various aspects of brand development and then joined UNIBAIL-RODAMCO in 2004. There he held several titles including Deputy Head of Leasing France and then Group Head of Leasing Innovation.
His new responsibilities will include securing and growing Groupe Le Duff's real estate development abroad, particularly in the United States, and handling certain strategic missions for the group in France.
Groupe Le Duff welcomes the arrival of Cyriaque Fournier in order to strengthen its expanding team. The group just passed the €2 billion mark in turnover, half of which was secured abroad under brands such as La Madeleine, Bruegger's, Mimi's Café and Brioche Dorée.
En poursuivant votre navigation sur ce site, vous acceptez l'utilisation de cookies pour faciliter et personnaliser votre navigation ainsi que réaliser des statistiques de visite. Pour en savoir plus et paramétrer les cookies ou vous opposer à leur utilisation : Consulter la politique de gestion des cookies
Les paramètres des cookies sur ce site sont définis sur « accepter les cookies » pour vous offrir la meilleure expérience de navigation possible. Si vous continuez à utiliser ce site sans changer vos paramètres de cookies ou si vous cliquez sur "Accepter" ci-dessous, vous consentez à cela.